About Murat Padar - Founder - Istanbul Property
Murat Padar was born in 1974 in the Altınordu district of Ordu. Murat Padar, who completed his education in Ordu, is the father of 3 children and the youngest of six siblings. Murat Padar, who started his business life in accounting and finance, now continues to pursue his professional life as a successful businessman who has included real estate and advertising in his field of expertise.
Mission: To maximize the satisfaction of his customers from all over the world by offering the real estate they need with his expert staff and knowledge.
Vision: To be one of Turkey's leading and innovative entrepreneurs in the international real estate sector.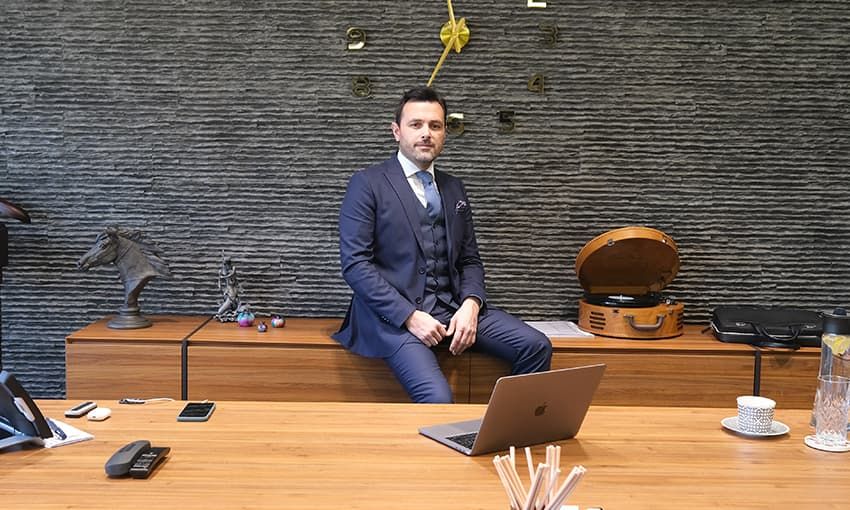 What is Murat Padar's Education Like?
Having completed primary, secondary, and high school in Ordu, Murat Padar went to Kayseri to stay with his eldest brother for a university education. He graduated from Erciyes University, Faculty of Business Administration in 1996. After a two-year internship, he was entitled to receive Financial Advisory Certificate.
How did Murat Padar Found Istanbul Property?
During the years when foreign nationals were allowed to buy real estate from Turkey first the first time according to the law enacted in 2012, he established two companies, one of which is a software company producing CRM solutions, and the other is an actıve Digital Marketing company serving the construction sector.
In the software company, the residences produced by the construction companies were created as a B2B platform where they could work together with the real estate agents in the domestic market, and in this way, they were included in the online sales network of all real estate agents and construction companies in demand in Turkey.
The goal was precisely to make this software idea available to international real estate companies. As a matter of fact, in those years, many companies from Middle East countries were connected to Turkish construction companies using this system, and hundreds of sales were made. Although this field is very new, Murat Padar and his partners, who became one of the founders of the sector with a very strong infrastructure, activated the advertising department over time and created direct customer channels apart from the B2B channel. Afterward, the idea of ​​a sales office, which is one of the first in its field, emerged and he established a project marketing firm for foreign customers and became one of the best in the industry.
What was Murat Padar's Childhood and Youth like?
Murat Padar, who spent his childhood and youth in Ordu, spent his spare time working with his father, who was a tradesman. After a while, he realized that he had acquired his first business knowledge by working with his father during those years. This early developmental stage has helped him make great gains in life.
What is Murat Padar's Profession?
Murat Padar, who is a young entrepreneur and has many investments, is the CEO of Istanbul Property.
What is Murat Padar's Goal with Istanbul Property?
Istanbul Property is one of the leading Real Estate companies in its field in Turkey. In this direction, it is the most important goal to continue consolidating its leadership and to carry the projects outside of Turkey.
What are Murat Padar's Ideas about Real Estate in Turkey?
Turkey, which is a very dynamic country in every respect, has taken its place in the real estate sector in this direction and he thinks that it offers many alternatives to the real estate sector. He stated that these are: summer houses in the Mediterranean, wood houses in the Black Sea, and houses in Istanbul for living or investment purposes, and said that there are very few countries that can offer so many alternatives for foreign customers.
What is the Importance of the Real Estate Market for Murat Padar?
Murat Padar, who owns companies in many sectors, including software and advertising companies and financial consultancy, is among the best in these fields.
Thanks to the work he has done, he continues to work in real estate, which has met the real estate sector and has become his field of interest in time, by transferring his companies to other sectors. For most people, real estate is the most valuable and only investment in their life. As such, they work for years to invest. Making it his mission to help people make the most important investments of their lives, Murat Padar is excited about doing this job.
What Does Murat Padar Recommend to People Buying Real Estate in Turkey?
He stated that it is very important for a customer to determine the purchase purpose before buying real estate, and the next step is to reach the right product and price. The best way to achieve this is to get the right consultancy service. Consulting firms, especially in big cities such as Istanbul, are much more important. The best way to reach the right one among hundreds of thousands of real estate is, of course, to get help from an expert.
The performance of the Turkish Real Estate sector over the years is very advantageous for customers. In addition, during the growth periods of world trade, Turkey's real estate market was among the fastest growing sectors in the world and was one of the least depreciating during the stagnation period.
What Does Turkey Mean For Murat Padar?
There are historical and natural beauties all over Turkey. As Ahmet Arif says in his Anatolian poetry, with its thousands of years of history, Turkey is one of the most beautiful places in the world in many aspects and has great economic potential. Therefore, customers from many countries of the world want to buy real estate in Turkey. Thus, we should know the value of Turkey.
Contact Murat Padar
Mobile
+90 552 482 00 22
LinkedIn
Murat Padar
E-Mail
[email protected]