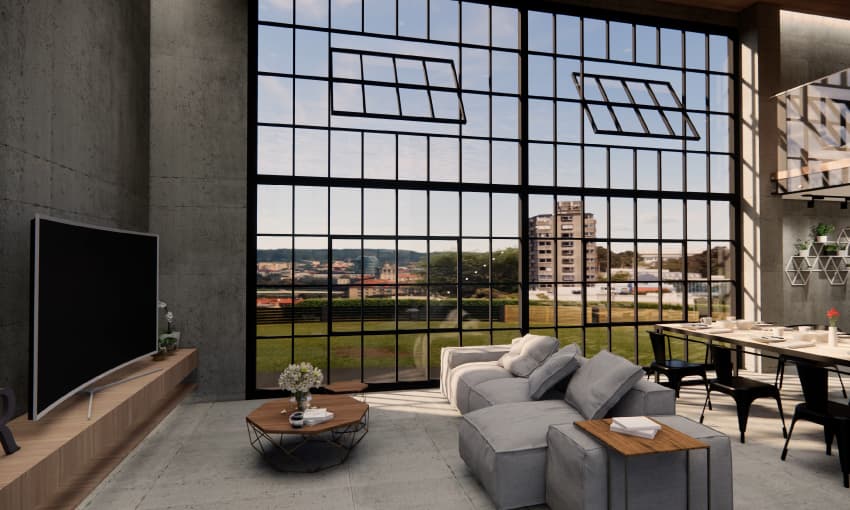 Created :
2023-08-16
Updated : 2023-11-06
It is said that wide areas with high ceilings offer its residents the spacious life that many pursue. That is why some people prefer this type of house to continue their lives in large rooms where you can fit much of your furniture and items, or you can just leave it vacant to turn the room into a more breathable and liveable place.
If you are looking for a high-ceiling apartment, you have to look for either a penthouse or a loft house. Although the ceilings of a penthouse may be lower than you expected. In short, not every penthouse offers this feature. Whereas a loft house is designed for this specific reason.
Loft houses are usually located in former industrial buildings. They have an open floor plan and large windows with high ceilings. By an open floor plan, we basically mean that the apartment only consists of 4 walls. The rooms are usually installed artificially with walls, bookshelves, and curtains. However, as many people seek spaciousness, they just simply use the apartment as it is. Since dividing the apartment into many walls will kill the sense of spaciousness, they prefer not to do it.
What are the Features of High Ceiling Houses?
Loft houses or high-ceiling houses are typically characterized by their open floor plans, large windows, high ceilings; as the name implies, and concrete floors.
The open floor plan includes no additional walls that divide the space into rooms, which creates a sense of spaciousness and openness. However, some people add minimal walls that fit their liking, you can do that too. Exposed brick is likely the most common wall material used for loft-style homes. This material complements the sought-after industrial aesthetic in urban areas.
On the other hand, large windows provide more natural light to penetrate into the apartment and beautiful views, if the apartment has a good sight. These windows are often floor-to-ceiling. The ceilings are at least 3 meters from the ground.
Last but not least, the concrete floors installed in the apartment are more durable and easy to clean. As the building was formerly used as an industrial workplace, these features used to matter. But after the transformation into a living place, it definitely gave the apartment a classy look so many designers tend to keep it as it is.
With all these features, loft houses offer a stylish and refreshing lifestyle to their residents. Although there are advantages, we can't overlook the fact that loft houses also have drawbacks, and these might actually change your mind about them.
What are the Advantages of High Ceiling Houses?
Lofts are commonly located in renovated buildings and take advantage of the existing architecture. Usually, each loft is unique, even if they are in the same building. But they often have common advantages, which are;
Spacious and Open Floor Plan: Loft-style homes are usually characterized by large open spaces. High vaulted ceilings without additional walls are common in loft houses since they are usually found in renovated warehouses and barns. The exposed support beams and ventilation systems found in these buildings contribute to the typical loft atmosphere. Some newly constructed buildings are even designed to have these features, in order to appear older and more lived-in. These factors would make the space feel bigger and more luxurious. Having more space means having more opportunities to decorate your house, including the double-height ceiling advantage.
Natural Light: With the high ceiling advantage, a loft house will always be exposed to natural sunlight. The sunlight also gets rid of the cavernous look, turning to place into a more lively place. Plus, sunlight is good for your body, and your apartment too. There is a proverb that sums this up well, "the doctor often goes to the house where the sun doesn't shine". It means that a house needs sunlight, which kills germs. In a home without sunlight, there are often diseases.
Easy to Design: The layout of the loft houses is simple, which is also easy to design in accordance with your liking.
What are the Disadvantages of High Ceiling Houses?
A house with high ceilings and large windows will bring its own problems and this is cleaning. So be ready for body aches as the cleaning will require too much effort with high ceilings and large windows. Other than this, the possible drawbacks are;
Cleaning: Besides the loft apartments being hard to clean, being disorganized brings hardships. Due to the layout, you have to be strictly organized to keep the tidy look of your apartment. Imagine your guests are coming over, you can't just clean the living room and let the rest be. So it requires hard work of cleaning and organization in the house, otherwise, your apartment will look bad.
Lack of Privacy: Due to large windows and 1-room layout, it is hard to find a private area in the apartment.
Smell Problem: The kitchen is integrated into the living room, just like the American Kitchens, and this might cause smell problems in the apartment. You'll be fine as long as you ventilate the apartment and don't cook extremely spicy food.
Sound Isolation: Living in a loft can be challenging. Blocking the sound in a loft can be tough due to the absence of walls. While the open layout of a loft is visually appealing, it can make noise control difficult. Noise in a loft may not just come from conversation, music, or television of your cohabiting parties. Appliances in the kitchen may also cause humming or buzzing noises to consider.
Temperature: High ceilings are not ideal for controlling the room temperature. During cold seasons, the air cold can remain in the room while the warm air rises to the ceiling, making it quite chilly. You must set up a reliable heating unit to maintain bearable temperatures throughout the winter months, resulting in increased costs on your energy bill.
What's the Origin of High Ceiling Houses?
High-ceiling houses have been around since ancient times. Some of the oldest loft houses can be found in ancient Egypt, Greece, and Rome. People built these houses with high ceilings to improve ventilation and air circulation. The high ceilings also showed that the owners were wealthy and had high status.
During the Middle Ages, people began to build high ceilings more often in European castles and churches. Builders constructed these buildings with high ceilings to make them feel more grand and impressive. They also helped protect buildings against attacks.
The high ceiling popularity continued into the Renaissance and Baroque periods. At that time, high-ceiling houses were considered a way to reflect the beauty and harmony of the natural world. The high ceilings were also intended to inspire a sense of awe and wonder in the viewer.
The popularity of high-ceiling houses decreased during the Industrial Age when cost and efficiency became more important. However, artists converted old industrial buildings into spaces that allow them to both live and work, without paying any or a low amount of rent in return. That's how loft houses were brought back to life.
Are There High Ceiling Houses in Turkey?
Loft homes are not a typical housing option in Turkey. Instead, you are more likely to come across penthouses. However, it should be noted that loft houses can be found in some of the newer construction projects due to the increasing demand for this type of house. If you're looking to purchase a house for sale in Turkey but want high ceilings, you may want to consider a penthouse.