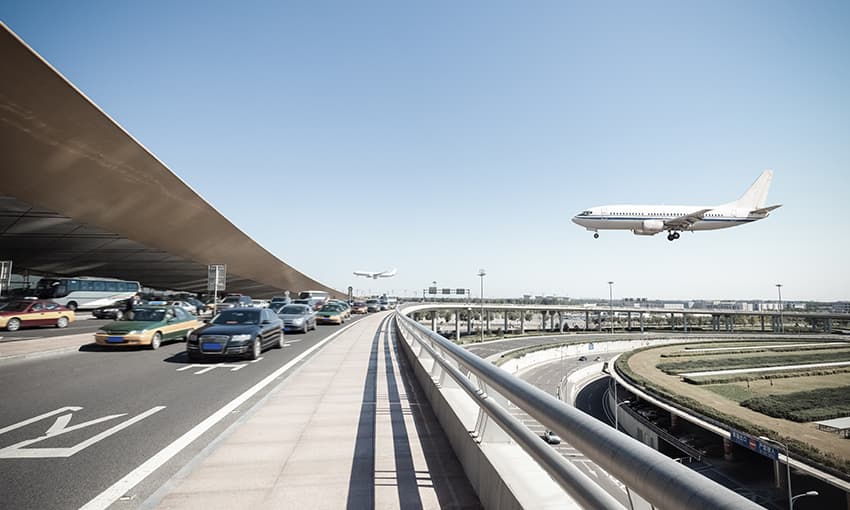 Created :
2023-08-18
Updated : 2023-10-21
Turkey, one of the pioneers in terms of tourism, has many airports with international arrival terminals, meaning that they receive foreigners from all around the globe. Since tourism has a huge influence on the Turkish economy, the government displayed bright steps toward this matter by initiating international airport projects in the country.
Currently, Turkey has a total of 58 airports in Turkey, including 35 international airports and 23 domestic airports. The newest airport in Turkey is Istanbul Airport, which opened in 2018 and is the largest airport in Europe.
Last year, 64 million 486 thousand 178 passengers used Istanbul Airport. Of these passengers, 15 million 894 thousand 315 traveled on domestic flights and 48 million 591 thousand 863 on international flights.
What is an International Airport?
An international airport includes customs offices and a terminal for international travelers. Travelers seeking to fly internationally can depart from these airports directly or with connecting flights. In addition to international flights, international airports can accommodate domestic flights too. The areas are separated into the international terminal and the domestic terminal.
While international airports may differ in facilities from country to country, some features must meet aviation standards. These locations that offer air travel to other countries must contain customs offices, security checkpoints, and an international terminal. Duty-free stores may exist in international airports' tax-exempt zones.
Additionally, international airports may include waiting areas, lounges, food and drink options, airlines, currency exchanges, medical facilities, baby care facilities, religious spaces, and tourism offices. International airports tend to be larger than those that operate only domestic flights.
International Airports in Istanbul
Marmara is the region where Turkey's most famous city is located, which is Istanbul. Tourists dreaming of traveling to Istanbul usually choose to fly to airports located in the Marmara Region. Istanbul, which connects two different continents, has two international airports; one in Europe and the other in Asia. If we say that those who use the airports located in the Marmara region prefer to travel only to Istanbul, we would be leaving out the other fascinating cities in this region, Çanakkale, Balıkesir, Bursa, and Edirne. Let's take a look at the international airports in the Marmara Region now.
Istanbul Airport: Istanbul Airport is the largest airport in Turkey and in Europe. It is located in the Arnavutköy district on the European side of Istanbul. The airport was opened in 2018 and has the capacity to handle up to 200 million passengers per year. The airport has flights to more than 350 places in 110 countries. The airport has one terminal divided into two concourses: Concourse A is for international flights, and Concourse B is for domestic flights. The terminal has many amenities, such as restaurants, shops, duty-free shops, and a spa. The airport offers a range of transportation options, including buses, taxis, and rental cars. Also, there is a fast train that connects the airport to the center of the city. In addition, the airport has a parking lot with a capacity of 40,000 vehicles.
Sabiha Gokcen Airport: Sabiha Gokcen International Airport, the second airport in Istanbul, is located in the Pendik district. The airport was named after the first female fighter pilot in the world and the first female pilot in Turkey. Construction of the airport began in February 1998 and was completed in January 2003, at a total cost of 550 million dollars. This year, Sabiha Gökçen Airport organized a total of 148,724 flights, with 73,100 being domestic and 75,624 being international. In this year, 11 million 388 thousand 792 domestic passengers and 11 million 164 thousand 61 international passengers flew from Sabiha Gökçen Airport. Overall, Sabiha Gökçen Airport served a total of 22,552,853 passengers this year.
International Airports in Izmir
Izmir Adnan Menderes Airport is the best choice for people who plan to visit cities like Izmir, Kusadasi, and Mugla for their vacation.
Adnan Menderes Airport: This is an international airport serving the city of Izmir, located on the Aegean coast of Turkey. The airport, which is named after a former Prime Minister of Turkey, is a primary entry point to the country's western coastal region, and it is one of Turkey's busiest airports. ADB was opened in 1987 and has two terminals: a domestic terminal and an international terminal. The domestic terminal has a capacity of 5 million passengers per year, while the international terminal has a capacity of 10 million passengers per year.
International Airports in Mugla
Mugla has an airport where domestic and international flights are in high demand during the summer. Mugla's world-famous beaches, historic monuments, and cultural charm bring millions of visitors to vacation there. There are 2 international airports in the city, these are;
Milas-Bodrum Airport: This is an airport that serves international flights and is situated in Milas, Turkey. After Istanbul Airport, Milas-Bodrum is the third busiest airport in Turkey and carries the flag of being the busiest airport in the Aegean region. This airport serves the city of Bodrum, which is a well-known tourist spot. Many tourists prefer Bodrum after Istanbul for their vacation location. Milas-Bodrum Airport reached a record number of 574 thousand passengers only in June 2023. The name Milas-Bodrum represents the districts where the airport is located, which are Bodrum and Milas and both are connected to Mugla.
Dalaman Airport: This is an airport that connects Dalaman, Turkey to other countries. It is ranked as the seventh busiest airport in Turkey based on the number of passengers it serves. The airport connects the neighboring tourist locations and the areas surrounding Dalaman. You can travel to and from over 120 destinations across Turkey, Europe, North Africa, and the Middle East via this airport. In 2023, Dalaman Airport served 3 million passengers in total. Dalaman Airport is preferred because it is close to Dalaman and Fethiye.
International Airports in Antalya
Tourists and locals who wish to relax and swim in the warm waters of the Mediterranean usually prefer Antalya city. Let's discover how to travel to Antalya by air.
Antalya Airport: This is an airport that operates internationally and is located in Antalya, Turkey. Next to Istanbul Airport, this airport is the second busiest in Turkey. This facility serves the city of Antalya, which is a popular tourist destination on the Mediterranean coast. With four months left until the end of 2023, Antalya Airport served 5 million 465 thousand international passengers. In the city, where tourist movement increases each year, there is also a high volume of air traffic. Reports indicate that Antalya Airport handles traffic from 50 countries and 200 routes. There are many tourist destinations near and far from Antalya Airport. These include Alanya, Kemer, Side, Kas, Belek, and Manavgat. There are various transportation options available depending on the location you want to go to from Antalya Airport, which includes tramway, bus, and helicopter.
Gazipasa Alanya Airport: This is an airport in the Gazipasa district of Antalya. It is situated 45 kilometers away from Alanya and has an indoor terminal building measuring 2,144 meters in size, as well as a parking area that accommodates up to 105 vehicles.
International Airports in Ankara
Ankara, the capital of Turkey, is located in the central part of the country. The most used airport for flights to Anatolia is Esenboğa Airport. There are five airports in Ankara, with only one being a civilian airport. The other four are all military airports.
Ankara Esenboga Airport: It is the airport that provides international service to Ankara, the capital of Turkey. It is 28 km north of the city center, within the borders of Akyurt and Çubuk districts. It started operating in 1955. Esenboğa is Turkey's first airport to have domestic and international flights. It is also the country's fourth busiest airstrip in terms of passenger flow. In 2009, Airport Council International-Europe crowned Ankara Esenboğa Airport the "best airport" in the "5-10 million passengers" category. The airport recorded a total of 8,644,967 passenger arrivals and departures in 2022, of which 1,902,934 were international.